SCHOOL DAYS MUSEUM PROJECT
Your 'School Days' Museum is alive and well and continues to grow and improve. Even though it is located in Fredericton, your Board of Directors encourages the NBSRT Branches and individuals to consider it to be truly a provincial museum.
Typical Classroom of Early 1950's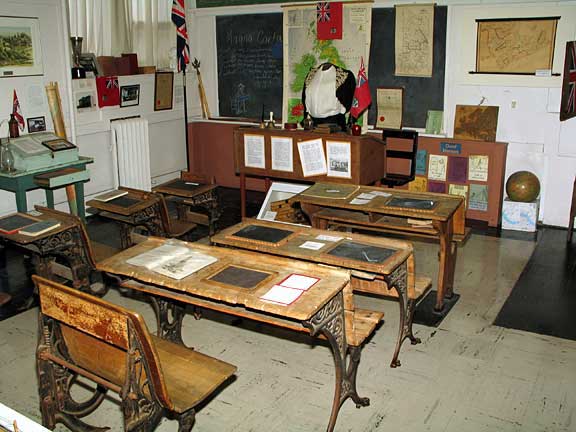 For nearly twenty years, the inventory at the Museum has grown to contain thousands of items from schools of earlier years: textbooks, resource materials, teaching aids, photos, students' work, archival materials, school furniture and fixtures. Rather than being a museum which concentrates only on the collection of items, it is hoped that the 'School Days' Museum will become more dynamic in exhibiting such articles. As more and more items continue to be received from generous donors, the space in the Museum's two rooms has become very limited.
Visit us on the web at SCHOOL DAYS MUSEUM
ADDRESS:
'School Days' Museum Board of Directors
P. O. Box 752, Fredericton, N. B. E3B 5R6
Justice Bldg., East Entrance, Queen Street, Fredericton
Tel. & Fax: (506) 459-3738
If you have items that you would like to donate or loan to the museum, please contact
Dianne Stackhouse by phone 738-2657 or email This email address is being protected from spambots. You need JavaScript enabled to view it.
OR
Melody Hamm - 738-3244, or This email address is being protected from spambots. You need JavaScript enabled to view it.
and they would be happy to pick any items up and take them to Fredericton.