Welcome to our
NBSRT-SJ Website
--
Look under Photos on our menu bar for pictures of


NBSRTSJ Brunch
"En Plein Air" Painting
Look Under EVENTS for what is happening, including:
Kayak Guided Tour at Beamer Creek, Hampton, Sept. 26th, 2022 - ***FULLY BOOKED***
Postponed till Oct. 3, 2022 due to weather.
ALSO
Walking Club starting soon
Deep Water Exercise
Connection New Brunswick Program (volunteers and participants)

Look Under Newsletters to check out our April Newsletter
Look Under News to read the awesome tributes to some of our favourite teachers. Honour A Teacher Contest


We had a winner for our May Photo Wellness Contest.
Congratulations to Heather Toole.
She attended the Saint John and Provincial AGM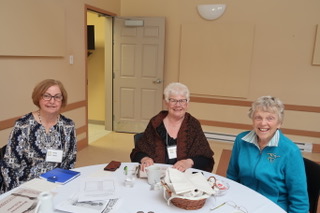 AND
Congratualtions to Netta Chase - Winner of our May Recipe Contest
Click here to view her recipe.
THANK YOU
Huge thank you to Elizabeth Nelson- Donnelly who conducted our Create a Personal Mandala Workshop in March. Below is one of the Mandalas produced entitled "Spring Time."
A COUPLE OF HISTORY TIDBITS....
To learn of the history of the Saint John Branch NBSRT,
click on About Us (located above on the menu bar) and then
click History.
Another note of interest is the Brief History of the NBSRT website. Saint john was involved from the very beginning. Click Website history
Looking for books to read. Click on the books below..